OAMC RE:WORK FW22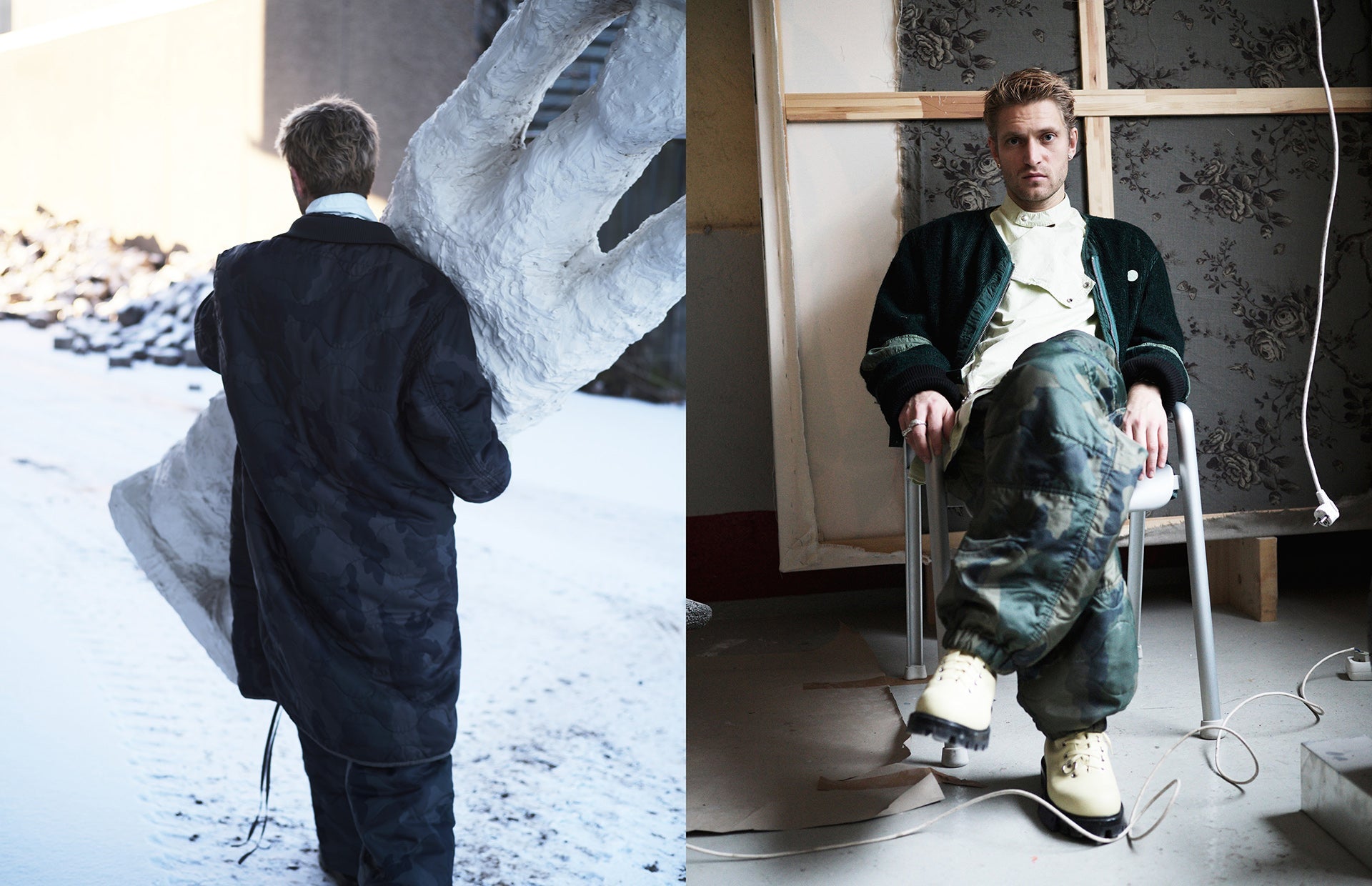 FREDERIK NYSTRUP-LARSEN IN CONVERSATION WITH DAN THAWLEY
Dialling in from the island of Fanø on the west coast of Denmark in the dead of winter, Frederik Nystrup-Larsen is about to be in for a meteorological shock. The Danish multimedia artist is days away from a trip to sunny Cuba, where he will spend the month of January at a new artist's residency in Havana founded by the Copenhagen-based gallery Brigade. There, he will explore the possibilities of his new surroundings, the local material landscape, and his eclectic, ever-changing sculptural practice.
Photographed by Chris Lensz for OAMC, Nystrup-Larsen wears the OAMC Re:Work Fall/ Winter 2022 collection in and around his Copenhagen studio, revealing a cacophony of forms from his working archive. Amongst them, strange lamps formed in metal and jersey knit are informed by his layered impressions of Tai Chi poses, and hybrid readymades poke fun at sports and industry. Propped up in the snow under the wintersun, papier maché structures are remnants of a commentary on the aesthetics of early video game culture – warped sentinels that hint at both abstract and figurative forms in Nystrup-Larsen's dynamic opus. Though seemingly disparate, these objects are but a glimpse into the Royal College of Art graduate's thought and work process, one that constantly questions the world around him, toying with the absurdity of consumer culture, technology, the legacy of art history, and even the permanence of art itself. Case in point: a 2019 project titled OFF LICENSE CASH ONLY, where Nystrup-Larsen (together with Oliver Sundqvist) fabricated a pop-up store of brightly-painted papier maché trash and sold over 100 pieces at the market value of their imaginary contents.
Tell us about some of the works in your studio?
Here in the studio at the moment, some of my newest works like the soccer ball pieces and tire weights are more like self-entertainment. Of course, everything I make comes from where I am in the world and in a way how I am in myself. The last couple of years have been so strange. I guess you start to think about your own health and getting older, and how these years just went by and stuff like that. And I just became interested in the concept of fitness, but also all the layers there are in keeping yourself in shape, and shaping yourself in terms of sculpture. These are experiments relating to how I want to approach fitness and there are so many elements I'm thinking about – it could be narcissism, it could be the protests when people weren't allowed to use gyms during COVID. At first, I thought about placing them somewhere in public for anyone to use. Then I thought about casting them all perfectly. Then, it became more about the idea of using existing elements I have around me and putting them together, and thinking as easily about an object as being functional purely because of its weight. So at the moment, I'm just training with them in the studio!
How does ecology play a part in your work?

With projects like OFF LICENSE CASH ONLY, I like to think we were able to tell people that they are doing really, really poorly in terms of over-consumption, except in a funny way. At the time we were so confronted by moving to east London from Copenhagen about the quality of things. Even down to the weight of a door, things like that. There was just trash everywhere! So we were able to source materials on the street. It was also the first time we'd seen the effects of Amazon, because we just didn't use it in Scandinavia. That show also became almost an analysis of how people actually consume, as of course all the cheapest pieces sold first and then it went up like this.

How do you incorporate the written word in your work?

I think it goes back to the fact that I really don't have one fixed style that I work in, or a fixed medium. My work always depends on something I want to talk about, or a material I want to work with. And sometimes that takes the form of a painting, or a sculpture. Sometimes writing is a quicker way of creating sculpture. To make a lamp in the Soft Boxing series, I have to find the metal, weld it, source the fabric, when sometimes maybe you can express an idea in 4 sentences. And sometimes it allows me to put more information into my installations and shows. I think the best example of that in my work is probably The Private Collection of Frederik Nystrup-Larsen as each piece was displayed with a story that allowed me to direct the viewer more precisely. They were all stories about my life, or how I came to be: stories of my childhood, how my parents met etc. But most of them are fictional texts. I think it is quite interesting to be able to frame yourself as you want to be seen, and being quite honest about that. I mean, we are all doing that all the time anyway. One story was about me waking up with a wolf in my bed.That is not true, but I hope that the viewers are able to bring their own critical view to the writing and hence to the pieces themselves.
As an artist, what is your relationship to clothing, and to fashion?
I really like looking at fashion and all the mechanisms of fashion, and I'm very inspired by that. In many ways there is this relationship between art and design and architecture and fashion that they sort of bounce together and there's also this hierarchy which I don't think is necessarily fair, but it's definitely there.
And for me, I think the problem is over-consumption. That's something I'm very aware of and I'm trying to take a step back from. If this project hadn't been about reworking garments, then I don't think I would have done it. For a project like this, I need to be able to stand behind it, not only the aesthetics and the design, but also the responsibility. And as with my own work, I'm trying to think about materials all the time and use what is around me rather than going out and buying new materials all the time. I don't buy any new clothing myself, either. And if I'm asked if I want something, I usually say no. But I look a lot, as I'm super interested in it. But I do buy secondhand clothing. I am obsessed with old Comme Des Garçons.
What is your acronym for OAMC? 
OBJECTS ATTENDING MASSIVE COMPETITION.